Cinchy Dataware Platform Expands Scalability; Adds Support for Kubernetes, PostgreSQL
Cinchy has a new update to its innovative Cinchy Dataware Platform with support Kubernetes, PostgreSQL and expanded scale. IDN talks about Cinchy's platform for data-centric digital transformation with CTO Karanjot Jaswal.
by Vance McCarthy
Tags: Cinchy, data, data mesh, dataware, fabric, integration, network,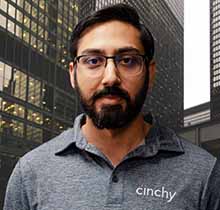 Karanjot Jaswal
chief technical officer


"The fundamental purpose of dataware platforms is to enable people and software to collaborate on real-time data in real time. "
Enterprise Integration Summit

Integration Powers Digital Transformation for APIs, Apps, Data & Cloud
August 25, 2022
A Virtual Summit
Cinchy is adding support for Kubernetes and PostgreSQL to the latest edition of its innovative Cinchy Dataware Platform. The offering aims to improve and simplify data availability for enterprise projects.
The Cinchy Dataware Platform optimizes how data is accessed, controlled and operationalized, according to Cinchy CTO Karanjot Jaswal. He added that it uses its concept of a "data network" to eliminate the need for data silos and costly data integration tasks.
Jaswal added more context for how companies design and deploy "dataware.
Cinchy Dataware Platform has been purpose-built to serve as the collaboration-based power plant to drive data-centric digital transformation. But unlike Data Lakes and even Data Warehouse technology, it is definitely not a monolithic undertaking - it evolves naturally and is driven by organizational need.

Dataware is also not a "rip and replace" technology; in fact, some of our more common use cases include unlocking, backing up, and reusing SaaS data (and eliminating lots of costly licenses in the process) and upgrading existing apps with capabilities they don't support out-of-the-box.
The latest update, Cinchy Dataware Platform v5.0, focuses on expanding scalability along with support for Kubernetes and the PostgreSQL database.
Specifically, upgrades include:
Full Kubernetes Deployment: New capability to deploy fully on Kubernetes for containerization and clustering, reducing cost and simplifying deployment and management. This reduces costs; [lets users] dynamically spin up and down servers and clusters of servers, and enhances monitoring.
Open source database option: Support for open source PostgreSQL as a new database layer option to reduce licensing fees. This expands on Cinchy's existing capability to utilize Microsoft SQL Server.
Expanded scalability: Ability to deploy on an unlimited number of servers for expanded scalability
Support for HPE Ezmeral Runtime Enterprise: Adds support for integration with HPE Ezmeral Runtime Enterprise so organizations can securely access data sources and integrate with ML and AI services.
Cinchy dataware also supports 'Zero-Copy Integration,' which allows data to be operationalized -- without ever needing to be fragmented or copied, Jaswal added.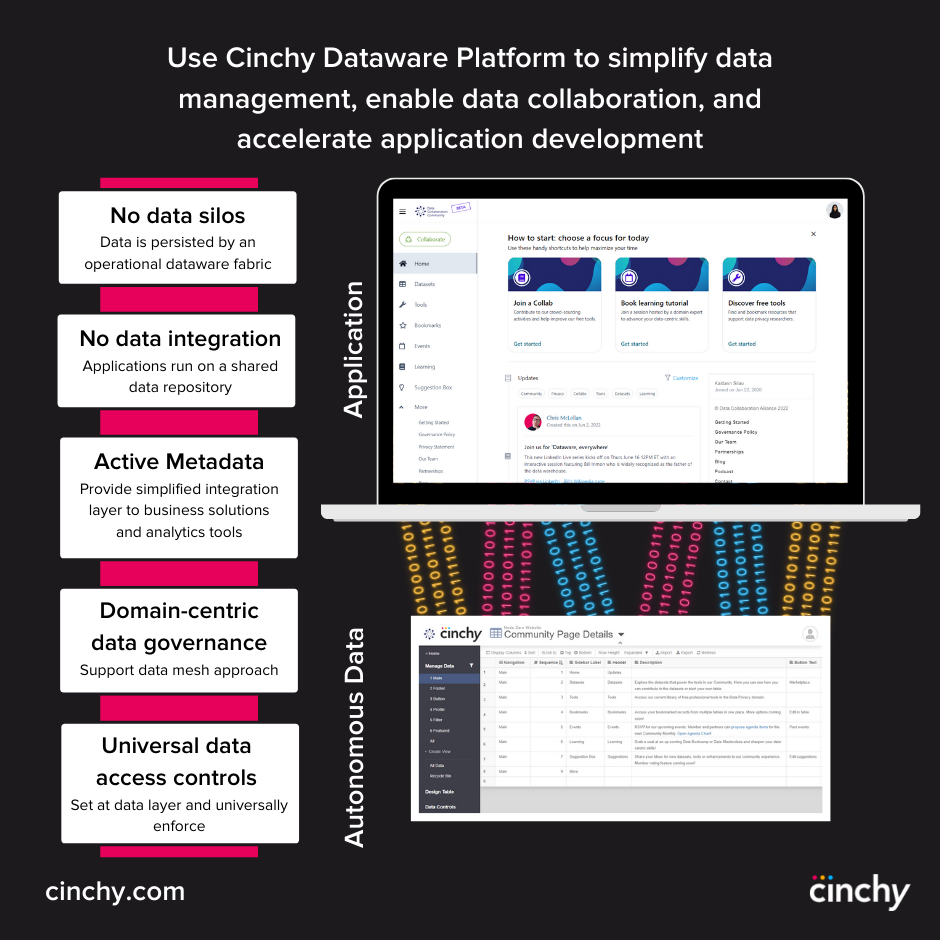 Cinchy's 'Dataware' Architecture Powers Popular Digital Transformation Projects
The Cinchy Dataware Platform approach to 'dataware' is designed to let companies de-silo SaaS data, modernize legacy applications, automate data compliance, create 360 customer views and build elastic web and mobile apps,

"New digital solutions generally need old data to function, and so dataware also supports what we call "last copy" integration," Jaswal told IDN. "This is where data from legacy apps and data stores can be connected, just once, and then be used by all future projects so long as access to the datasets has been granted."
IDN asked Jaswal for a deep dive into "dataware" and how architects and integration professionals use it.
Cinchy offers dataware technology that manages real-time operational data sourced from connected applications and data stores. It also manages datasets sourced and managed directly by internal teams (via a user-friendly 'data browser' feature).

The fundamental purpose of dataware platforms is to enable people and software to collaborate on real-time data in real time to create real-world digital solutions. This is very different from [data virtualization] DV solutions that typically utilize a distributed query to produce read-only copies of data for analytics purposes.

For the record, the concept of dataware dates back to the 1980s and was coined by renowned data pioneer Gordon C. Everest.

It proposes the evolution of digital experiences to a level where data and active metadata actually becomes the application, placing data in a position of prominence alongside hardware and software. We have adapted this concept and brought it to life in Cinchy Dataware Platform.
IDN also asked Jaswal to describe Cinchy's low-code and automation features/capabilities.
The Cinchy Dataware Platform enables rapid delivery without code but is quite different from traditional low/no-code approaches.

For example, Cinchy 'activates' metadata to dynamically create a user experience enabling business users to access, manage, and use data (across applications). Basically, UI's 'build themself' using metadata!

As a second example, users can collaborate on saved 'queries' without being limited by application silos/data fragmentation. Cinchy 'activates' the queries and metadata to dynamically create application interfaces. Like the dynamic UIs, the APIs 'build themself' using metadata!

These are examples of what we mean when we say that "Data is the Application" :)
With this better context for dataware, IDN asked Jaswal to describe how dataware provides such high-levels of data coloration and flexibility.
The "how" of dataware is best described by data collaboration–a methodology that is actually similar to co-writing a proposal using Google Docs, where employees join forces to draft words while spell check software suggests edits in real-time. Now replace 'Google Docs' with 'dataware platform' and 'proposal' with 'new digital solution,' and you have the basic idea behind data collaboration.

In data collaboration, the 'spell check software' part can take the form of calculated columns that are native to the platform, or software that's been connected via the data fabric (e.g., applications, AI/ML tools) - all of which can contribute to the enrichment of datasets.

For example, they may contribute a column that contains prediction or scoring data.
Under the covers, the Cinchy Dataware Platform combines various core components working together. These include:
An operational data fabric that connects data from legacy apps and data stores into the platform bi-directionally and in real-time
A network-based architecture that interconnects datasets to form a "power grid" of organizational data that includes a user-friendly 'data browser' UI
Autonomous data that's protected with access controls set at the data-level by the rightful owners and universally enforced across all solutions powered by the platform
Domain-centric data governance, i.e., data mesh that federates the management and empowers operational teams who are closest to the data
Data model plasticity that enables datasets to be repurposed for multiple solutions and schemas to evolve without breaking solutions
Persistence engine power no-code, low-code, and pro-code digital solutions with query-based models that respect data-level access controls - no new silos, no integration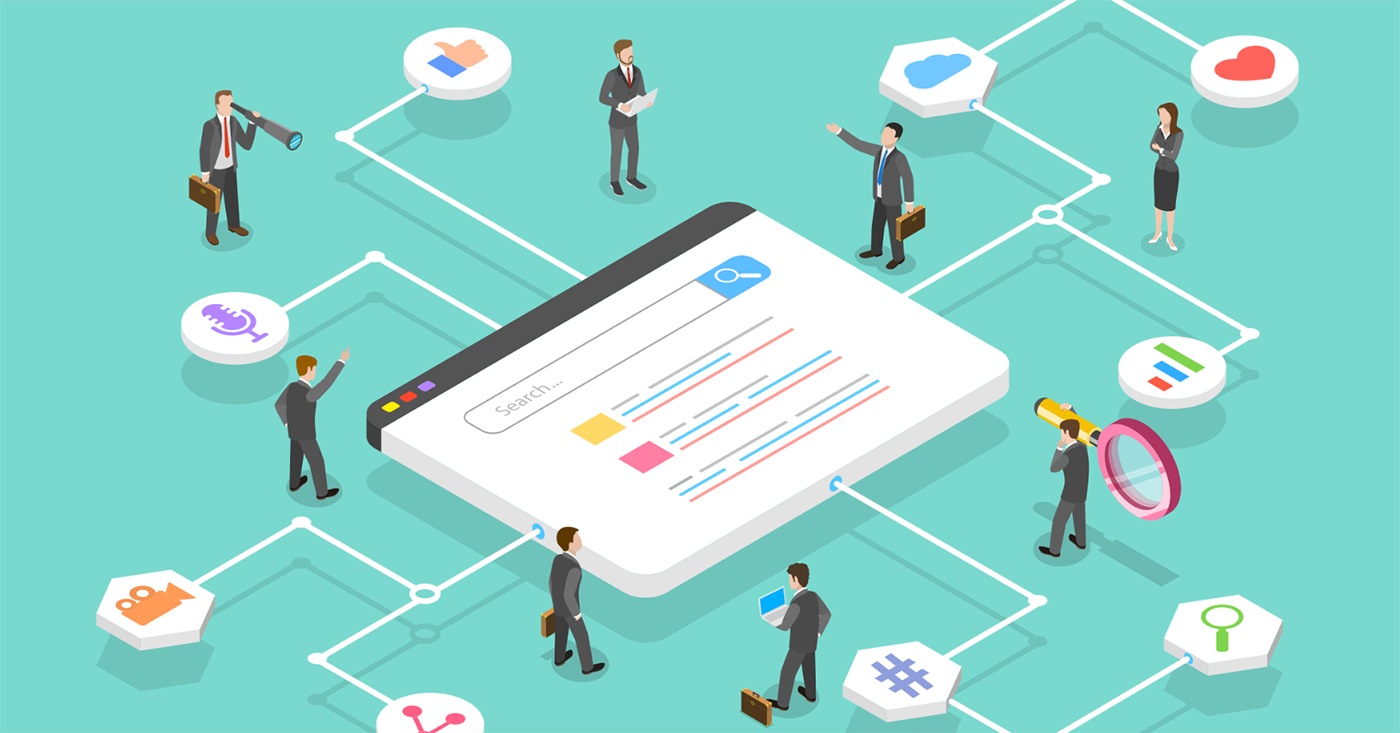 Analyst, Customer Insights on Cinchy Dataware Platform
One analyst noted that Cinchy's novel 'dataware' approach provides multiple benefits to IT and business users. Joe Hilleary, a senior analyst at Eckerson Group, said in part:
"Dataware is a bold reimaging of the relationship between data and applications, where applications run on a shared data repository rather than individual dedicated databases, thus eliminating the need for data integration and preventing data duplication. So many of the tools we use today focus on bringing data together from multiple applications, but, with dataware, the data is never separated to begin with."
To work with the Cinchy Dataware Platform, Jaswal recommended "an incremental approach" to begin the first project. As more projects are delivered, organizations can increasingly simplify their data management ecosystem while de-risking data pipelines, he added.
One Cinchy customer noted various data benefits.
"With Cinchy, we've been able to deliver something that previously would have been fantasy," said Craig Bradley, SVP, Information Technology, YMCA of Greater Toronto. "We now have control and insight into our data that we didn't have before and the ability to manage and manipulate our data in a new way. As a result, we're able to deliver value and impact to the association in a way that we couldn't previously."