MapR Ships Database & Platform Updates To Let Firms Better Leverage Real-Time Data for Analytics & Operations – at the Same Time
MapR Technologies is shipping major updates to MapR-DB and its Converged Data Platform designed to let companies leverage real-time data for both analytics and operations – at the same time. IDN speaks with MapR's Jack Norris about this next DataOps development.
by Vance McCarthy
Tags: analytics, data fabric, DataOps, indexes, MapR, OJAI, NoSQL, real-time,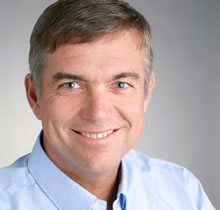 Jack Norris
SVP Data and Applications

"Companies want to 'operationalize' their analytics. It's no longer good enough to simply look at trends after the fact."
MapR Technologies is shipping major updates to MapR-DB designed to let companies leverage real-time data for both analytics and operations – at the same time.
The latest version of MapR-DB, coupled with updates to MapR Converged Data Platform, sets the stage for success with DataOps – the process of quickly turning raw data into tangible business value.
MapR-DB 6.0 aims to bridge the enduring gap that exists between analytics (and the need for human interaction) and data-triggered instant operations, Jack Norris, MapR's senior vice president for data and applications told IDN.
"Companies are getting used to having tons of new and valuable insights. Now they're asking for more insights faster, and ways to more quickly use insights to get business systems to react," Norris said.
In the past, users looking to perform deep analytics often have had to sacrifice support for real-time operations. "That trade-off is no longer acceptable," Norris said.
"As businesses try to get a more holistic view of what's going on in their business, companies want to 'operationalize' their analytics. So, it's no longer good enough to simply look at trends after the fact," Norris said. "Today, companies are looking for power to more quickly derive insights from all their varied data – and even more important – get those insights in the instant where they can do more meaningful things for the business."
Norris shared with IDN how the increasing convergence between deep analytics and operations is creating some profoundly useful (and commonly asked for) use cases:
Process mountains of credit card transactional info, and be able to screen and determine which may be fraudulent – all while the card holder is still in the store or online;
Contextual or personalize user experiences (on retail websites or content webpages) during a single visit;
Sifting through click data and log files to determine security threats; and
Derive close-to-instant insights from massive amounts of IoT data – and capture those insights in time to do something meaningful with them.
MapR-DB 6.0 will sport many new capabilities that when combined aim to deliver real-time operational, analytical and AI-enabled data-intensive applications – all at once, and at global scale.
To get there, several of MapR-DB 6.0 upgrades break long-time barriers associated with NoSQL databases with respect to enabling fast reads and fast writes – both within the same database, Norris added.
Intelligent Data Summit

Manage Expanding Data Volumes for Analytics & Operations
Online Conference
He put it this way: "There are NoSQL databases that have focused on how to handle write-intensive (those are more on transactional side). There are NoSQL databases that are optimized for read-intensive (more on the analytic side). But we're going with both," Norris told IDN. "We're saying the breakthrough here is handling these mixed workloads that are employed when you're doing these operations and analytics."
To understand the technologies at work to provide these business benefits, a key factor to consider is that MapR-DB plus the underlying MapR Converged Data Platform creates a new type of 'data fabric' that can streamline complex tasks for developers and data prep teams – and get to data outcomes (analytics, operations and data-driven apps) more quickly.
With that in mind, Norris took us under the hood for several key MapR-DB 6.0 updates. Among them:
Powerful data access with native secondary indexes
Providing native secondary indexing makes analytics faster -- on multiple dimensions. "These promote fast and rich data access and let users conduct queries on any columns in the database tables," Norris said, "They also improve performance via auto-propagation, auto-scale & auto-management of the indexes." Also, thanks to the ability to create composite indexes on multiple columns, apps can use all data types and queries can make use of both primary and secondary index tables, he added.
Rich application development with OJAI 2.0 APIs and smart query execution
Support for OJAI 2.0 APIs brings an app-centric view of analytics, which can be used to automate operations, events and trigger responses. "So, now we're setting the stage for developers to build apps with smarter, automated query execution, which supports an automated response," Norris said. "The whole idea is that the app now has the ability to discern insights coming in -- and then automate actions as part of the flow."
Native JSON support and Drill for SQL.
Richer JSON features support access to complex data using multiple models. This reflects another dimension of responsiveness – without imposing more tasks on app developers or data prep groups. "For bringing analytics to transactions and operations there's just no time to negotiate common data models," Norris stated.
Other improvements include added support for continuous machine learning/AI, in-place self-service SQL data exploration, operational BI capabilities thanks to optimized Drill integration, and real-time application integration with global change data capture (CDC).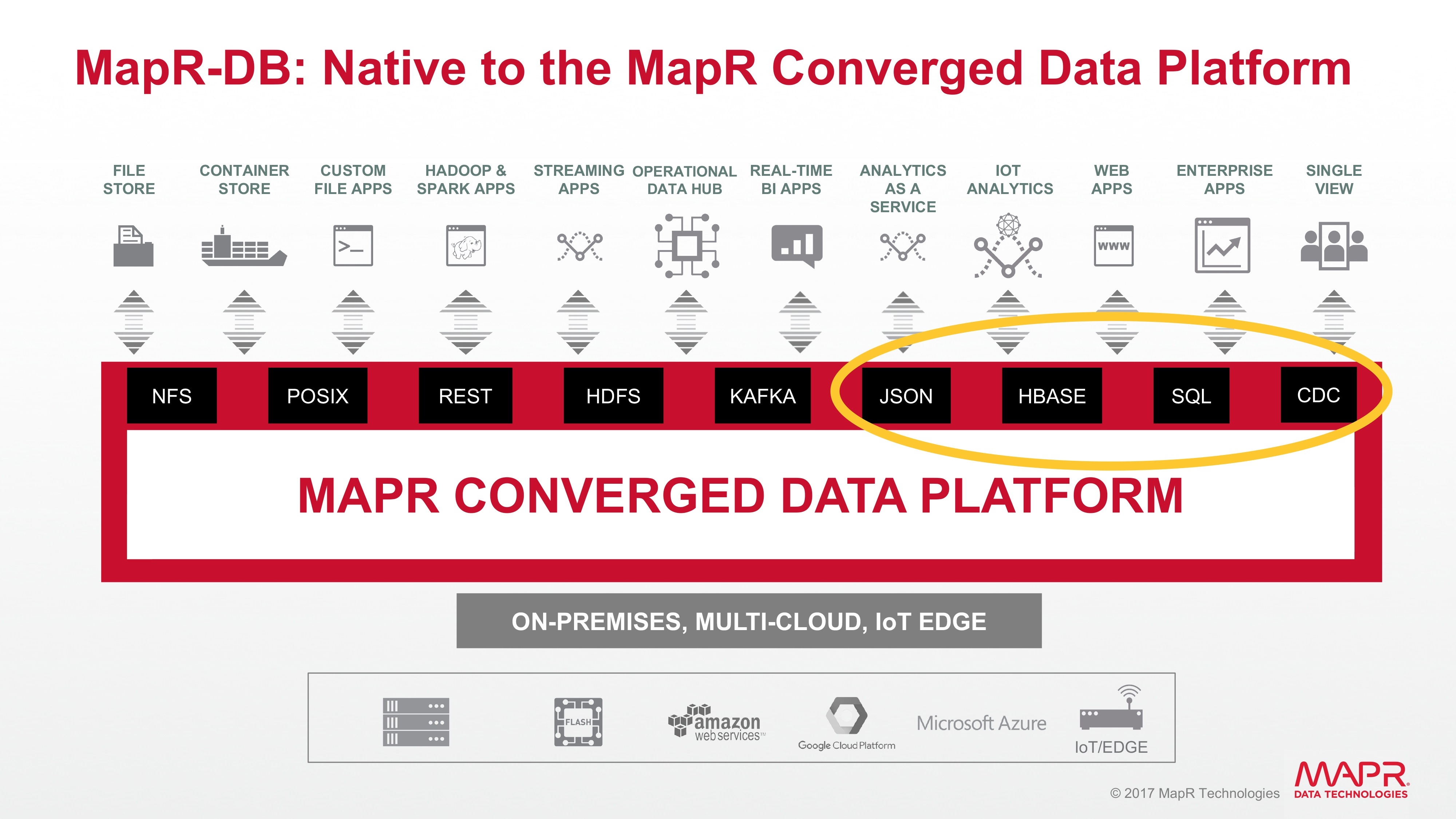 MapR-DB also supports multiple data models (document, wide column, key value, etc.). MapR-DB is designed to operate thousands of mission critical next gen applications with consistent ultra-low latencies and high scalability.
MapR-DB, which is part of the companies Converged Data Platform, creates what Norris called a 'data fabric' approach to deliver speed, reliability, and scale and consistency. MapR's vision for a 'data fabric' which Norris explains is needed to forge a new streamlined data pipeline – ready for real-time analytics, operations and new-gen apps that can trigger and / or react to insights.
"The way we've design it, the data fabric can support diverse data types and diverse analytics and real-time flows and processing that extends – across locations, Norris said. "So, what we're talking about is the ability to do multiple types of processing on the same fabric. That is key and that is important."
Norris explained the need for a data fabric approach by comparing it to an architecture that's commonplace today. Companies can integrate their legacy data warehouse and relational data with new data from the cloud, streaming and more, but there's one main problem, Norris said. "There's just not enough time to do all that and get both analytical insights and real-time operational response."
So, MapR-DB supports a data fabric approach, where users can support multiple data types and add flexibility that supports multiple types of processes (reads, writes, etc.) This provides power and flexibility for an application-driven reference architecture, where the app is dictating the data model and how the data must be used. This app-centric view for data also sets the stage for metadata catalogs and AI/ML infused next-gen applications, Norris added.
"With our 'data fabric,' MapR offers flexibility for multiple diverse workloads, diverse data types and all sorts of analytics," Norris said. "We also support real time flows and processes, and those can use data from across multiple locations. We're seeing this 'fabric' approach as what is empowering more rapid – and less complex -- transformation.
MapR-DB's data fabric approach has earned a big data thumbs up from Industry analyst firm Enterprise Management Associates.
"Retro-fitting legacy databases in today's big data environments presents challenges to organizations such as poor data performance, scale limitations, and data access restrictions." said John L Myers, EMA's managing research director. "Leveraging a one platform architecture, MapR Converged Data Platform enables organizations to efficiently process all data types bringing analytics and operations together with consistent scale, reliability and performance.
MapR-DB 6.0 + MapR Converged Data Platform – Next Step Toward DataOps
MapR-DB 6.0, now shipping, works in concert with MapR's Converged Data Platform An update to this core platform is also shipping (Version 6.0), which leverages MapR-DB 6.0 alongside other upgrades to help companies achieve what it calls 'DataOps' success.
"DataOps is an important movement, ultimately letting organizations turn their data into value as quickly as possible," said Anoop Dawar, MapR's vice president product management and marketing, in a statement.
DataOps is an emerging practice utilized by large organizations with teams that train machine learning models and deploy them to production, Dawar added. The goal of using a DataOps methodology is to create an agile, self-service workflow that fosters collaboration among data scientists, developers, and other data-focused roles, including analytics, security and operations. Further, DataOps aims to boost creativity while respecting data governance policies. This results in more innovation and a broad array of compliance-friendly fast time-to-value solutions, he said.
MapR Converged Data Platform 6.0 focuses on three key areas to support and deliver DataOps, Dawar noted. They are:
(1) Automated cluster health and administration to simplify processing of cluster health and continuous operations.

(2) Security and data governance updates to enable users to quickly access data they need – so long as they have proper privileges. New single-click security enhancements include enforcement of authentication, more comprehensive on-the-wire encryption and simpler out-of-box security configuration.

(3) Faster time to machine learning and AI-driven analytics with 'self-service' data science and AI. To promote wider adoption of machine learning and AI, MaPR's recently announced Data Science Refinery is now available for complete, self-service access to all data from within the same cluster.
MapR Converged Data Platform 6.0 is available now. Cloud provider marketplaces, such as Microsoft Azure, Amazon Web Services, and Oracle Cloud, will have version 6.0 available before the end of year.