Riverbed Improves 'Digital Experience Management' with Latest SteelCentral Update
Riverbed Technology is looking to bring more science – and less black arts – to the best ways to deliver high-quality digital experience. The latest update to SteelCentral aims to let companies do better troubleshooting all parts of the digital experience.
Companies of all kinds continuing to invest heavily in delivering the best digital business initiatives. That said, the ability to deliver a high-quality user experience for such projects remains largely a patch of challenging guesswork.
Riverbed Technology is looking to bring more science – and less black arts – to these tasks. The latest update to its SteelCentral digital experience management solution aims to let companies do better troubleshooting all parts of the digital experience.
SteelCentral comes with the ability to track and measure performance from the user's experience on the device to the back-end network, infrastructure, cloud and application.
Mike Sargent, Riverbed's senior vice president and general manager of SteelCentral noted the updates come as more organizations are making "big ticket, highly strategic investments in digital business transformation initiatives." Companies assume these investments will "drive customer intimacy and employee/partner productivity," he added. Sadly, they are not always successful.
With the prevalence of cloud and mobile technologies, Sargent surmised that traditional tools are unable to holistically measure and manage a user's digital experience.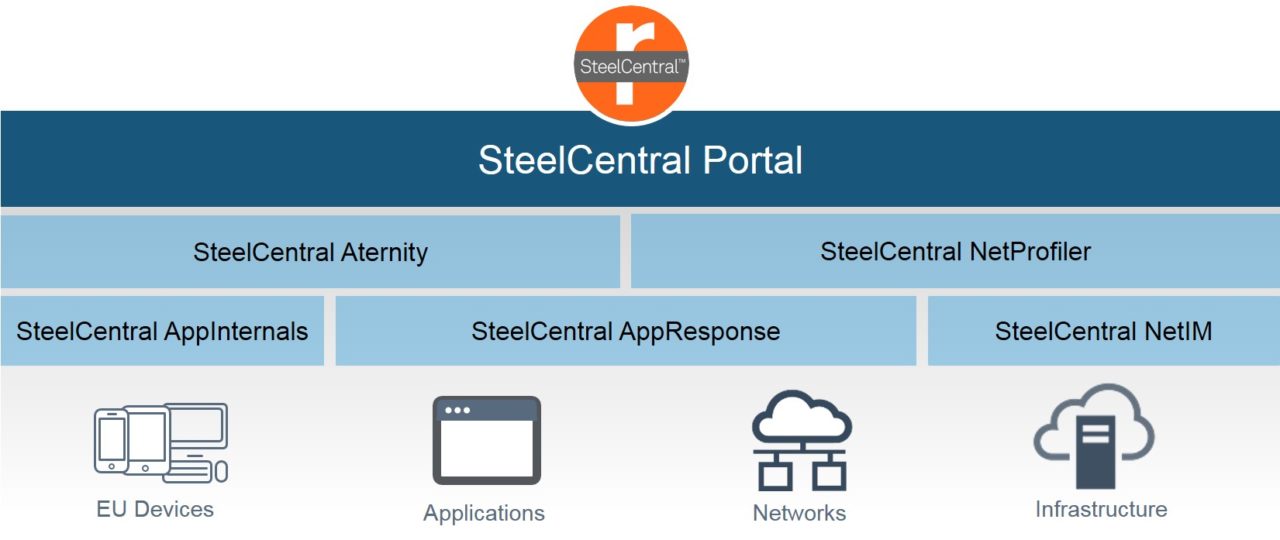 SteelCentral is helping enterprises deliver a reliable and consistently high-quality end user experience. Sargent indicated that "with the breadth and depth of insight that [the solution] provides, down to the individual transaction level, we are taking visibility to a whole new level to help our customers achieve their strategic goals."
SteelCentral's latest release looks to fill in many of the gaps between digital experience monitoring and IT's ability to capture, see and evaluate all the variables that go into digital experience, Sargent suggested.
Many in IT and business can probably relate to how frustrating this gap can feel. SteelCentral product marketing director Erik Hillen explained it this way in a recent blog post:
Despite the focus on digital transformation, few companies are able to actually understand the digital experience of their customers or their workforce. Customers complain about web load times, app performance, network speed, yet IT has no line of sight to the problem. Performance is impacted, customer satisfaction plummets and the IT's reputation is seen as lagging the market.

At the same time, IT has instrumented a great deal. We monitor, apps, end user experience, networks, databases, infrastructure… all with a myriad of point solutions, but the tools don't talk, the groups don't talk and, most importantly, none of these elements help to manage the critical question: what is the end user's experience?
SteelCentral aims to pull together capabilities to fill (if not eliminate) this gap, according to Sargent. To support that mission, this upgrade adds several key features to let IT and business stakeholders better collaborate quickly and clearly – and deliver high-quality digital experiences, he added.
Among them:
Enriched 'end-user experience monitoring' and integrated visibility into digital experience: Under the covers, SteelCentral will incorporate the device-based view of end-user experience. This visibility will show both IT and business executives a deep and unified view - with a single-pane-of-glass – of performance and its impact on end users.
Reduced risk for application migrations to the cloud: As companies continue to migrate apps to the cloud, both IT and business are looking for better ways to overcome cloud's 'blind spot,' and better understand and assess the impact on network performance. SteelCentral introduces application migration planning and prediction and enables network planning and architecture teams to simulate and predict traffic behavior and impact on the network prior to application migrations.
Manage outcomes across the application lifecycle: As organizations adopt DevOps, developers, QA teams and IT operations are looking for ways to increase agility and quality of application releases. Often that comes with efforts to streamline, integrate and automate processes. SteelCentral looks to aid in those efforts by allow IT teams to more easily visualize and analyse performance insights and diagnostics across the full application lifecycle.
SteelCentral's ability to provides all this deeper understanding of performance levels brings about end results sought after by both IT and business – including resolving performance issues and improving service performance.
The recipe for these results come from SteelCentral's capability to blend a all the key pieces of instrumentation that goes into a digital experience - device-based end user experience, infrastructure, application, and network monitoring. Here are some notable details on the ingredients - and how they all come together:
End user experience monitoring: Monitor the actual end user experience of any local, cloud, web, or enterprise mobile app running on any physical, virtual, or mobile device. Proactively identify and rapidly resolve problems to ensure excellent customer service and workforce productivity.

Application performance management: Leverage application performance management and monitoring to gain real-time visibility into the end-user experience, infrastructure and applications. Diagnose application performance problems down to the offending code, SQL, web service, network, or system resource.

Network Performance Management: Monitor, troubleshoot, and analyze what's happening across the enterprise network environment. With end-to-end visibility and actionable insights, users can quickly and proactively resolve any network-based performance issues.
Speaking of coming together, this latest release also sports noteworthy integrations between SteelCentral Portal, SteelCentral Aternity, and SteelCentral AppInternals. Sargent added.
"This integration means that SteelCentral users can now incorporate the device-based view of end user experience providing IT and business executives with a single-pane-of-glass view of IT performance and its impact on end users," he said in a statement.
Further, the integrated workflow between SteelCentral Aternity and AppInternals provides an integrated monitoring system for the entire end user service and allows IT to rapidly troubleshoot business-critical applications across devices and applications. According to Sargent, this results in a one-stop-shop for the variety of teams involved in Digital Experience Management, from end user services, to app developers and operations, to IT and business executives.
In the new release, Riverbed is also introducing a new integration between NetProfiler and NetIM that helps network managers understand the impact of network infrastructure on network performance.