Pyramid Analytics Updates Its Decision Intelligence Platform with AI, Self-Service
Pyramid Analytics is adding AI-driven and self-service capabilities to its update of its integrated decision intelligence platform. The goal is to make BI and analytics easier for users, and drive more impactful insights and actions.
Pyramid Analytics is shipping an updated version of its integrated decision intelligence platform designed to help companies move to a new level of BI and business analytics. It adds AI-driven capabilities to predict outcomes, prescribe actions, and automate decision-making processes.
Pyramid Analytics' latest update sports enhancements to make it easier for users to quickly obtain insights from their data and act on them, according to company execs.
"Making the complex appear simple is tremendously challenging, but it is essential to making an integrated decision intelligence platform that enables all users to use all the data available to them to up their analytics game," said Omri Kohl, Pyramid Analytics CEO and co-founder.
The update features "powerful analytics and BI technology that is well-suited to support a broad range of use cases and large numbers of end-users in multiple roles," he added.
One key enhancements in Pyramid Analytics' latest release is a "self-service data preparation tool" that allows users to cleanse and shape their data without help from IT or data scientists.
The tool includes a library of pre-built connectors to popular data sources and a drag-and-drop interface for quickly generating a data flow.
Pyramid provides self-service options for both advanced users and everyday business workers, the company noted. Benefits include:
End-to-end business analytics that allow users to ask the "next" question continually
AI-driven capabilities throughout the platform, including Chat Bot, NLG, Explain This, and more
Multi-model, multi-source dashboards that provide a fuller picture of data from disparate sources
Pyramid Analytics integrated decision intelligence platform is comprised of three key architecture pillars to address the entire end-to-end lifecycle, including:
Data Prep: A feature-rich data modeling layer includes high-performance direct query capabilities, full data movement from source to dashboard, and a predictive workbench tool—all designed to make data prep an integral part of the data and analytics pipeline. No code self-service supports easy-to-deliver data flows and ETL logic for simple data preparation. These tools allow such valuable-but-complex tasks to become part of an everyday part of the analytics workflow.
Optimizations for Business Analytics: AI-driven capabilities throughout the platform, including Chat Bot, NLG, Explain This, and more. Multi-model, multi-source dashboards provide a fuller picture of data from disparate sources. High-performance querying using Direct Query against any data works in conjunction with fast and easy data access for all levels of decision-makers. AI support also includes advanced modeling and the flexibility to configure models. Multi-model, multi-source dashboards that provide a fuller picture of data from disparate sources.
Data Science: Integrated advanced analytics and data science help organizations do more with data. This tool lets users leverage data science at the data prep level. The platform also brings advanced capabilities to business users and lightens the data scientists' workload, leveraging advanced AI capabilities within the platform across all enterprise data.
To further support delivery of insights and outcomes, Pyramid Analytics latest version sports a contextual, natural language Explain feature This uses AI to support human exploration and experimentation to achieve deeper insights. In addition, updates to the platforms' PYRANA direct query engine for SQL data sources delivers two times improvement in performance and can reduce database workloads by 50%.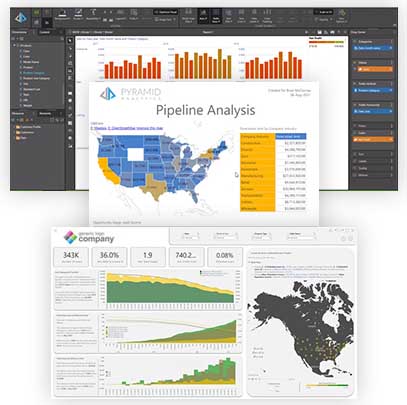 Pyramid Analytics Decision Intelligence Platform Built for Security, Extensibility
The Pyramid Analytics platform also includes deep support for security and data governance. Users can de-risk data with secure, context-aware access and centrally manage secure role-based access at a granular level. The latest release adds security features to support remote workers. For large enterprises, customized data governance and compliance settings can scale to tens of thousands of users.
Another key focus for the Pyramid Analytics decision intelligence platform is deep and varied support for integration across your enterprise ecosystem. The platform also adds solutions to integrate virtually any data source into analytics workflows, including cloud, on-premises, relational/non-relational, structured/unstructured, and even SAP HANA, Redshift, Snowflake more.
Pyramid Analytics' BI Specialist David Gordon explained in a recent blog post the value of easy-to-use integration to this new era of enterprise-wide business analytics:
Pyramid provides administrators the ability to self-configure connectors for almost any JDBC data source, providing users access to these data sources.

As more applications and databases are developed it is important for analytics platforms to be able to access and ingest data from these disparate sources. Pyramid's Custom Data Connector feature allows administrators to easily add and configure custom JDBC connectors (or "drivers"), adding them to Pyramid's list of pre-configured JDBC drivers, so users can ingest data from these data sources as if they are a built-in option without requiring any further configuration. Administrators can set the caption and description and upload the "JAR" file for the JDBC driver and use them instantly without requiring any additional coding. Pyramid's robust governance model also ensures that the drivers are secured in multi-tenant deployments.

JDBC data connectors enable users to ingest and combine a variety of data from external sources. Pyramid provides administrators the ability to easily configure custom connectors without new code from Pyramid. Non-technical users can then seamlessly access these data sources in the Model tool as if they were part of the platform itself. Finally, Pyramid's robust governance model allows the drivers to be secured and deployed in a multi-tenant environment.
Pyramid Analytics also has a deep partnership with CData to fill out its robust list of preconfigured drivers for connecting to a wide range of data sources. The CData JDBC driver collection numbers more than 200, allowing Pyramid Analytics users to deliver on many popular targets and use cases. These include RDBMS, NoSQL, Big Data, NoSQL, CRM, ERP, marketing, collaboration and e-commerce.
Access to this easy-to-use integration library allows technical and non-technical to connect and ingest data without having to configure the connection.
Pyramid Analytics' latest updates to its decision intelligence platform comes as analysts at Gartner predict that one-third of all large organizations will employ analysts that practice decision intelligence, including decision modelling, as soon as next year, 2023. That's in part because it's becoming far more complex to make business decisions, notes an article in Raconteur.
That article also went on to site a recent Gartner survey that found more than half of respondents (65%) believed the decisions they made were more complex than two years ago, and 53% said there was more pressure to justify or explain their decisions.