Zerto for Kubernetes Provides Public Cloud Features for App & Data Protection, Ransomware
Zerto for Kubernetes, due for release in July, aims to provide public cloud capabilities for complete data protection flexibility. The new Z4K sports backup to S3-compatible storage and cloud tiering for AWS and Azure.
To help companies keep pace with growing demands for data protection for cloud-native projects, Zerto is introducing a new approach for next-gen application backup, disaster recovery – and even protection from ransomware attacks.
Zerto for Kubernetes provides public cloud capabilities for complete data protection flexibility.
The new Z4K (Zerto for Kubernetes) platform, builds on Zerto's expertise in delivering cloud data management and protection solutions by adding backup to S3-compatible storage such as Cloudian, as well as introducing cloud tiering for AWS and Azure and immutability in public cloud. Z4K will be released in July.
By adding Zerto's continuous data protection to the Kubernetes control plane, organizations will be protected from data loss and downtime even in cases of user errors, malicious activity, or infrastructure failures without having to worry about backup windows or external services, according to Deepak Verma, Zerto's vice president of product.
"Organizations that are building their future around cloud native architectures need to have full confidence in the integrity of their infrastructure, resilience, and their ability to recover from issues such as cyberattacks and technology failures without delay," Verma added.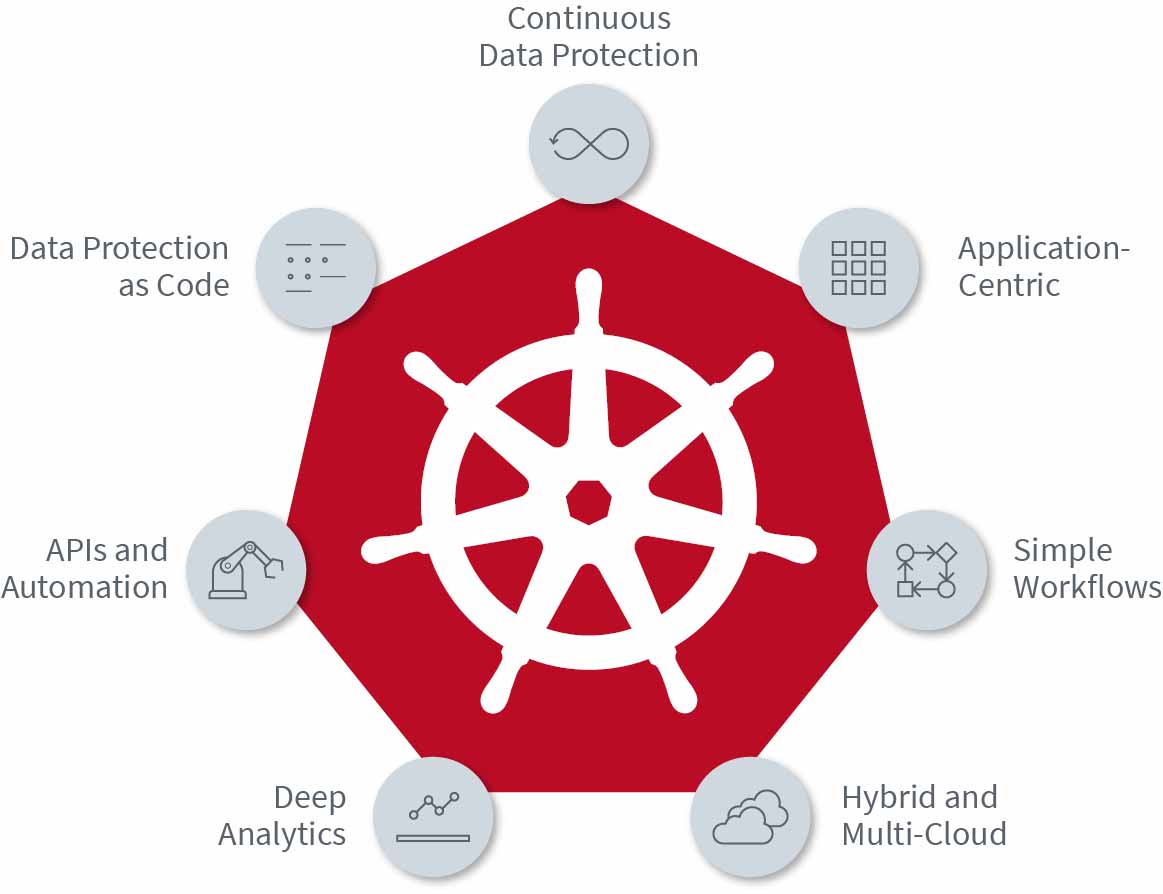 Among Z4k's top features are:
Deep Analytics
Centralized view of the entire Kubernetes environment to monitor performance and protection.
APIs and Automation
Easy integration into existing automation tools used in Kubernetes clusters to simplify operations and protection for developers and DevOps engineers.
Data Protection as Code
Purpose-built for Kubernetes, features to integrate both backup and disaster recovery into the application deployment lifecycle - while enabling rapid development.
Continuous Data Protection
Always-on replication provides continuous protection for automated, non-disruptive recovery of persistent volumes within and between clusters, datacenters, or clouds.
Application-Centric
Protect, move, and recover complex applications as one consistent entity, including all associated Kubernetes objects and metadata, such as ConfigMaps, StatefulSets, Services, and Deployments.
Simple Workflows
Simple, built-in workflows for any recovery and orchestration scenario designed to streamline operations.
Hybrid and Multi-Cloud
Native support for Kubernetes environments, no matter where they're running - on-premises, cloud, or across multi-cloud deployments.
Z4K supports Microsoft Azure Kubernetes Service (AKS), Amazon Elastic Kubernetes Service (EKS), Google Kubernetes Engine (GKE), IBM Cloud Kubernetes Service, and Red Hat OpenShift. Users can define retention policies in Zerto for storing and migrating long-term retention backups from online frequent access storage classes into more cost-effective in-frequent access storage classes all the way through to archive storage in both Azure and AWS, Verma noted.
Zerto's approach leverages cloud native APIs for tiering the backups without consuming compute resources to maximize cost saving capabilities.
In addition, immutability settings for backups in AWS can now be managed within the Zerto user interface. Zerto users can set how long backups can remain unaltered in order to safeguard cloud backups from malicious deletion or modification of data, such as from ransomware.
A Zerto blog posts explains more about Zerto's approach:
Application Consistency is the practice of capturing the entire application's state as a whole, coordinating backup across its constituents across virtual machines, containers and cloud services.

Modern, cloud-native applications, by design, are made up of many smaller application services, called microservices. These services live across cloud availability zones (or span data centers) by design to increase resilience.


This makes application consistency for modern applications more complex than ever — the number of components and diversity of storage locations is higher than ever.

In the case Kubernetes, application consistency is even more important – and challenging.
Early reaction from one analyst is approving of Zerto's approach.
"Cloud-native and containerized apps and infrastructure are quickly coming down the pike - if they are not already the reality. As these resources become business critical, enterprise IT must be prepared to protect them," commented Krista Macomber, senior analyst, Evaluator Group.
Users can experience application-level consistency for Kubernetes-based workloads with the Z4K hands-on lab, available here.